The Lenze 8200 AC Drive vector Frequency Inverter
The Lenze 8200 AC Drive frequency inverter. Complete with everything you need for convenient operation, handling, diagnostics and communication. This is what the 8200 vector modular range of frequency inverters in the power range from 0.25 to 90 kW stands for. Pluggable function modules enable precisely tailored integration of the 8200 vector into the control and automation architecture of your machine or installation.
Power: 0.55kW
Amps: 1.8
Supply: Three Phase 400v
Model: Lenze E82EV551K4C
Filter: Built-In
Performance: High Performance
Dimensions: 180h x 60w x 140d
Weight: 1.2kg
Torque: Constant Torque General Purpose
Their compact dimensions of the 0.55kW Lenze 8200 AC Drive vector frequency inverter allows you to save space in your control cabinet. For individual cooling concepts, we offer the "push-through technique" and "cold plate technique" models. The units are operated either via a plug-in Keypad XT control console or a PC in connection with the convenient and free-of-charge Global Drive Control easy operating software
Note Keypad XT is an option.
The Lenze 8200 AC Drive vector frequency inverter – for standard applications
The concept of the Lenze 8200 AC Drive frequency inverter is based on a modular system of components adjusted to each other. If combined with a Lenze geared motor or a Lenze three-phase AC motor, you can produce electronic variable speed drives for a wide range of applications in the 0.25 to 90 kW power range
Keypad (Optional)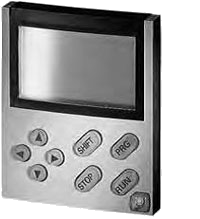 Advanced Keypad XT for the Lenze 8200 AC Drive
The keypad for the Lenze 8200 AC Drive provides a visual for the operating parameters and set parameters for the inverter. The keypad is plugged onto the front of the inverter and is also used for the status display, error diagnosis and, with integrated memory, to transfer parameters to other inverters.
Ref EMZ9371BC
Lenze 8200 AC Drive Advanced Keypad XT Features:-
Password protection
Plain text display
Predefined basic configurations
User-specific menus
Suitable for the 8200 vector and 9300 inverters series
IP20 degree of protection
Features of Lenze 8200 AC Drive frequency inverter:-
The option of 'bookcase' mounting
Permits a space-saving installation in the control cabinet. Installation costs are reduced using integrated filters (optional).
Flexible
The modular structure allows you to optimise the inverters to your application, making cost-effective drive solutions possible while maintaining high performance levels. Regardless of whether you opt for "stand alone" inverters with potentiometer-based setpoint selection or inverters networked in a bus system – the functionality of the inverter can be adapted to your application.
Adaptable
The selectable form of the V/f characteristic allows the frequency inverters to be adapted to loads with torque requirements rising in a constant or quadratic manner. The integrated flying restart circuit means that a drive can be easily restarted when the shaft is still turning.
Energy-saving
The power level is adapted such that the inverter is only driven to suit the current demand for torque/power.
Immediately ready for operation
Lenze 8200 AC Drive frequency inverter is preset for standard use.
Amongst other things, parameters are set for:
Controlled acceleration and deceleration using set acceleration and deceleration times.
Assignment of inputs and outputs with standard functions.
Simple
This series of Lenze 8200 AC Drive frequency inverter are characterised by simple operability and handling while also offering high levels of functionality. A clear menu structure and user-guided commissioning thanks to the Global Drive Control easy (GDC easy) parameterisation software makes rapid frequency converter parameter setting and diagnostics possible. GDC easy is free of charge and can be downloaded fromwww.Lenze.de.
Clear
The XT keypad is also available for operation. Users can quickly access all inverter parameters in the clear menu structure using the 8 keys and a text display. The XT keypad is also used for status display, error diagnosis and, thanks to its integrated memory, for transferring settings to other inverters.
The right setpoint source for every requirement
Via setpoint potentiometer to the control terminals.
Via master voltage or master current to the control terminals.
Via digital frequency input.
Via an operator module.
Via a bus module from a host system.
Communication-capable
In communication with a host system, inverters can be incorporated using plug-on bus modules. Virtually all common certified bus systems are available (CAN, CANopen, PROFIBUS, INTERBUS, DeviceNet, AS interface and ETHERNET Powerlink).
Reliable
Adjustable slip compensation balances load-related speed variations without costly speed feedback. The maximum current limiting function ensures stable operation under static and dynamic loads. A PTC resistor can be connected to protect the motor.
Used around the world
Thanks to the huge mains voltage the Lenze 8200 AC Drive frequency inverter range of up to 500 V (+10%), you don't need to worry about where in the world your machine is supplied. And the 8200 vector series is of course certified in line with international standards.